A spectacular & unique Ubud resort - Where dreams come true
Trip Advisor recently crowned Bali "The World's Best Destination 2017"

The Ayung Resort Ubud was also voted " One of the Top 25 hotels in Indonesia".
Even more reasons to experience the natural beauty and serenity of our luxury resort, set in a lush tropical rainforest on the banks of the sacred Ayung River.

There's never been a better time to explore our magical Island. And there's never been a better reason to treat yourself to a stay at one of the jewels in the crown of Ubud - The Ayung Resort.
Selamat Datang di Ayung Resort, Ubud, Bali
From the moment you arrive at our dramatic arched palm tree-lined resort entrance, you'll sense that The Ayung Resort, Villas and Hotel in Ubud is truly a very unique destination.

Set in the heart of a stunning eight-hectare natural tropical rain forest, you'll soon be absorbing the spirituality and marveling at the sheer splendor and beauty of our much-loved resort. And the real surprise is how affordable a stay can be. Check out our online rates for very attractive promotions and offers.

Spend time exploring The Ayung Resort, and we're sure you'll agree that there really is no other place quite like it on earth. Our guests quickly become connected with the driving passions behind the design and culture of our spectacular resort.

Our unique property is the result of one man's lifetime appreciating East and West philosophies, coupled with his insatiable desire to bring together some of the most important and impressive spiritual, philosophical and material elements and "objet d'art" that he's collected during his lifetime. The result is an unforgettable cornucopia of culture, history, art and luxurious style. Our art museum at the front of the main lobby will give you an idea of what eclectic wonders to expect.

However, for many guests, their overriding memory of The Ayung Resort is the incredibly powerful feeling of peace and inner harmony that every guest is touched by.

The Spectacular 5 Star Ayung Resort, Luxury Villas and Hotel Ubud
"Where dreams come true".
Choose from a wide range of stylish accommodation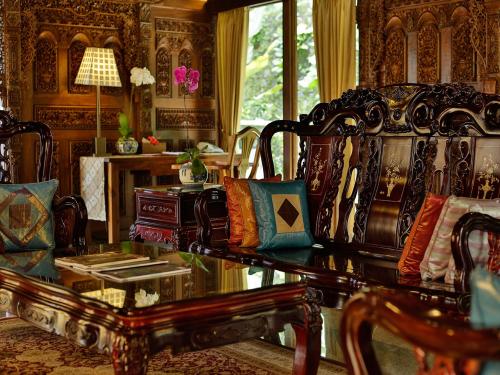 Ten antique Javanese Rumah Kudus hand carved wooden villas each with private pool
Twenty Deluxe Twin and Double bedrooms
Eighteen Superior Twin and Double bedrooms
Two luxury Suites with stunning balcony views over the pool and beyond.
Two units One Bedroom Garden Suite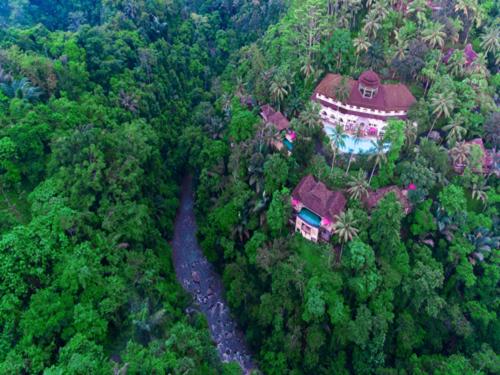 Every Suites, Villa, or Bedroom at The Ayung Resort is sure to impress and delight even the most demanding guest.

Surrounding your accommodation, the resort's tropical rainforest setting provides a truly amazing experience for guests. 250 local artisans and highly talented village stone masons spent five years lovingly applying their skills to create dramatic carved walkways through the grounds of The Ayung Resort in honor of one of Indonesia's most important Buddhist monuments and a World Heritage site – The Borobudur Temple in Yogyakarta, Central Java.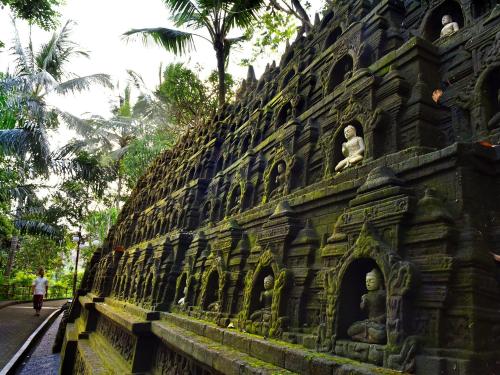 Every step you take around the resort brings you face to face with remarkable statues, exotic paintings, giant marble and wood carvings and other truly fascinating artifacts and "objet d'art"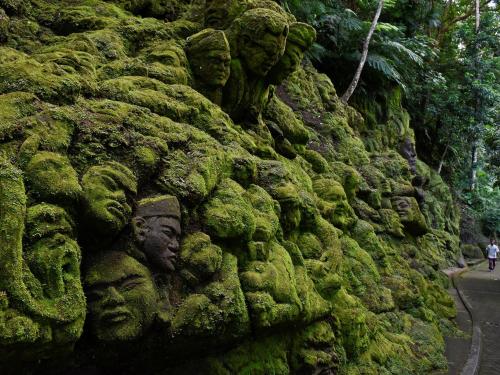 And just when you were thinking that you'd seen everything The Ayung Resort Ubud has to offer, you can be sure that you'll discover something new – it's all part of the allure and magic of our unique, welcoming and naturallly beautiful resort - where dreams come true.